Recently updated on January 19th, 2023 at 09:15 am
D&D is a game that's only limited by your imagination. But a figurine, or miniature, never hurts. So, if you've purchased a dice tray and storage combo and want to know how to store D&D miniatures, I've got you covered (no pun intended). Click below to read about some of the best D&D mini storage options in 2023:
Table of Contents
Benefits of D&D Mini Storage and Organization
As a tabletop gamer, you understand just how useful minis can be. There are so many players, though, that simply put their minis in a drawer when they're done playing. Here are the primary benefits of a dedicated D&D mini storage container:
Organization – There's nothing worse than needing a specific mini and not being able to find it. Proper mini storage will help you with exactly that, finding the exact miniature you need at the exact right time.
Transportation – D&D mini storage makes for easy transportation. If you're going on a trip and plan on a D&D session, high quality D&D mini storage is much better than throwing your figs in a bag. Not only will it be much more organized when you arrive at your destination, but it will also keep your minis looking nice.
Longevity – Going along with the point above, dedicated D&D mini storage, especially for painted minis, is a much better option as it will help your minis last a long time. With the correct storage option, your minis will last as long as you want them to!
How Do You Store Your D&D Minis
Like I mentioned above, D&D mini storage is very useful when you're trying to find a specific piece at a crucial time. So, when you're setting up your D&D miniature storage, it's important to keep a few things in mind.
First, we need to set up an efficient D&D miniature storage solution. Getting a storage container, only to throw everything in arbitrarily, doesn't make much sense. We need to set up a logical system so that we know where things are. I typically sort by monster size and monster type. That way, if I'm thinking to myself, "I need a Kobold for this upcoming fight," then I know exactly where to look.
The next thing to keep in mind is space. A storage container will only have so much space, so a system where a miniature pairs up with one storage slot doesn't typically make much sense (although there will be some expensive minis that require their own slot).
With the above in mind, as well as the D&D storage options listed below, I'm confident you'll be able to keep your minis safe, as well as quickly find them when you need them.
The Best D&D Storage Options in 2023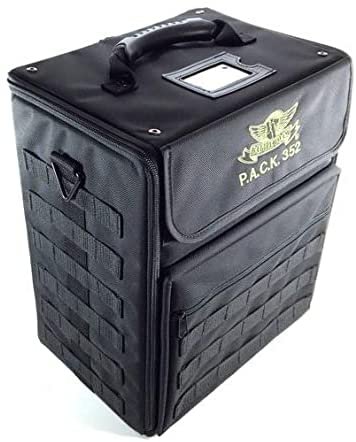 The absolute monster of D&D miniature storage, the Battle Foam P.A.C.K. 352 was designed, specifically, for the safe transportation and storage of table top miniatures. It was made with a ballistic nylon fabric exterior and hard plastic interior for additional strength and durability.
On top of that, the included molle system allows for customization of the bag, meaning it's not a 1 size fits all solution. The case comes filled with various sizes of Battle Foam Small pluck foam trays. This is the premium storage option for D&D minis.
The Feldherr Maxi Tank D&D mini storage case is a more-transportable option for miniature storage. But it also doesn't lack on storage capacity, with advertised storage that allows for 108 figures. On top of that, there's room for large models, tanks or monsters.
This is the best option for you if you're looking for the perfect mix between transportation and mass miniature storage.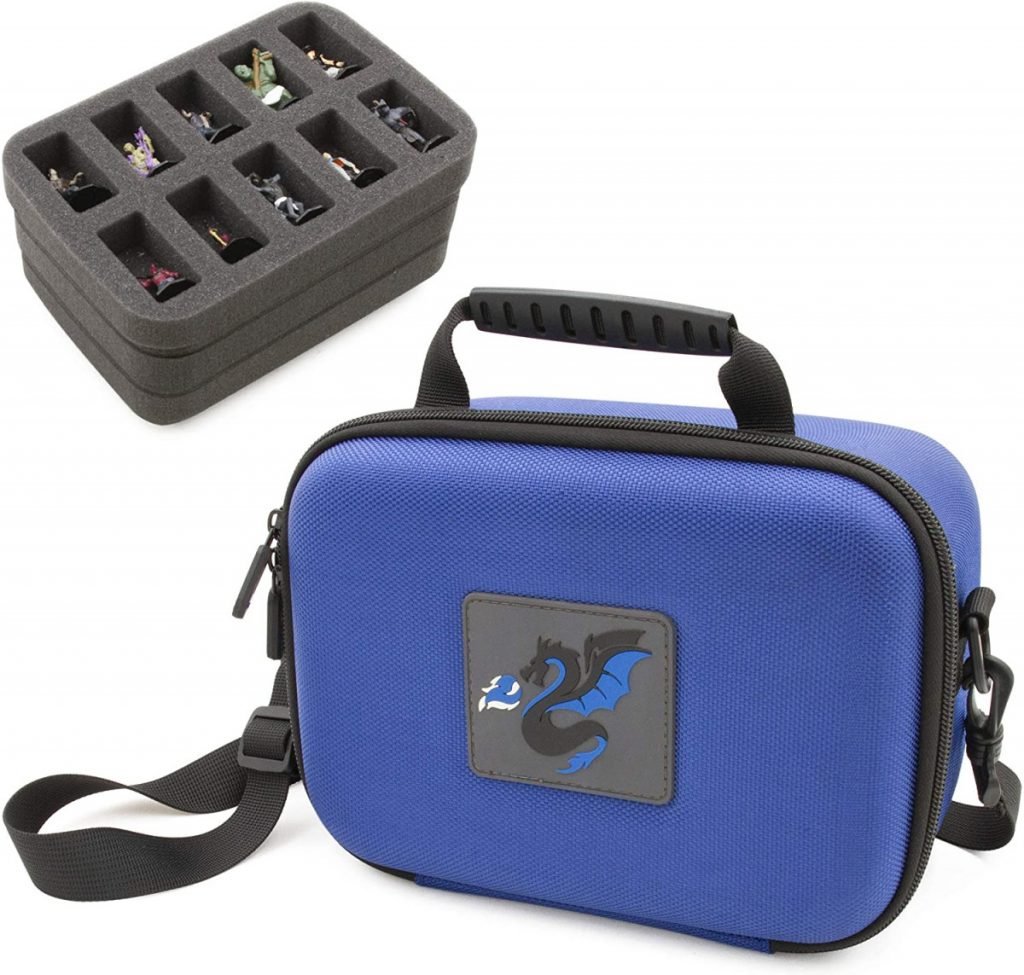 The CASEMATIX hard shell protection case features an impact-resistant EVA hard shell exterior. If you're traveling with this D&D mini case, you won't have to worry about dropping it.
You do need to be selective with which miniatures you plan on taking in this case, though, is it features just 30 slots. Depending on your needs, this should be more than enough.
The CASEMATIX case also comes with an adjustable shoulder strap and carry handle. It's truly one of the best options if you're looking for a smaller, easy-to-transport D&D mini case.
The DungeonTech 10 Slot Miniature carrying case is the perfect option if you want to be discreet with your D&D mini transportation. This thing looks like a briefcase. No one at the airport would know you're transporting minis. Well, until the case gets X-rayed.
The downside here is the carrying capacity. It only has 10 slots for miniatures, meaning you'll need to be very particular about what you do and don't take with you.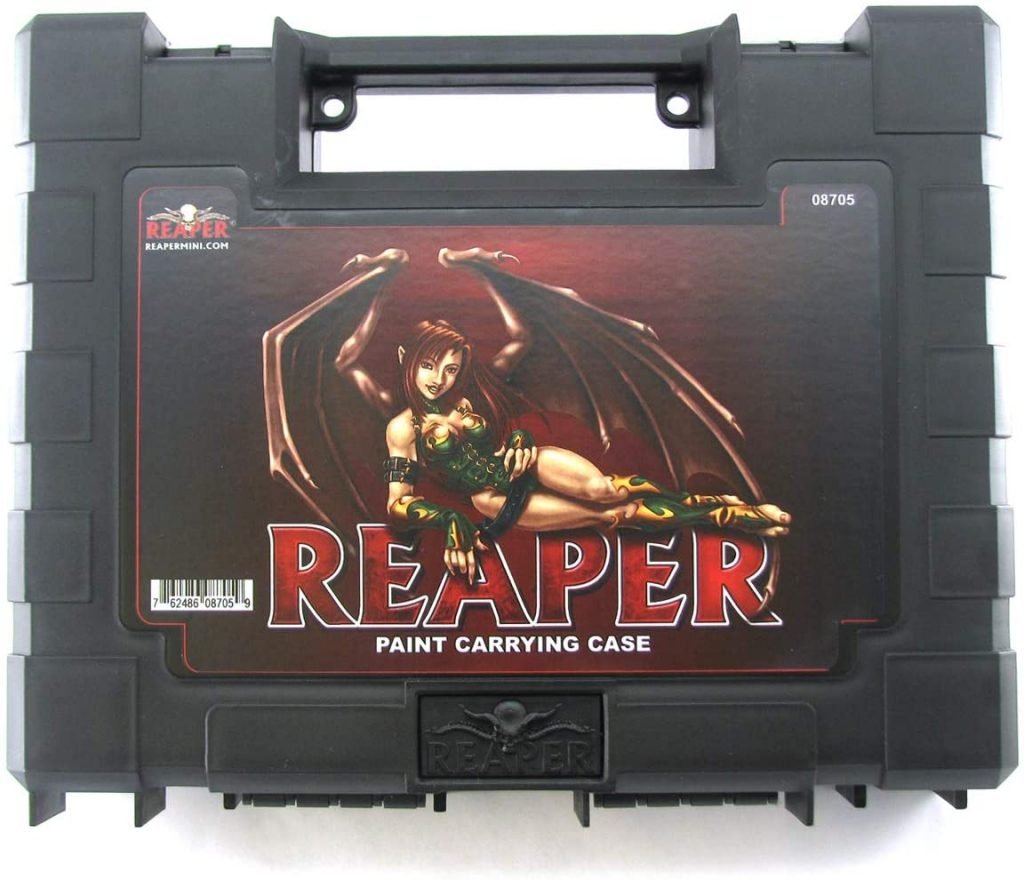 The Reaper Miniature carrying case is very stylized. This could be a good or bad thing, depending on who you are. Either way, there's no hiding what the case is carrying.
Having said that, it comes with two layers of rugged eggshell foam. There aren't dedicated slots for minis, which allows for potentially more storage, albeit it potentially less organized storage.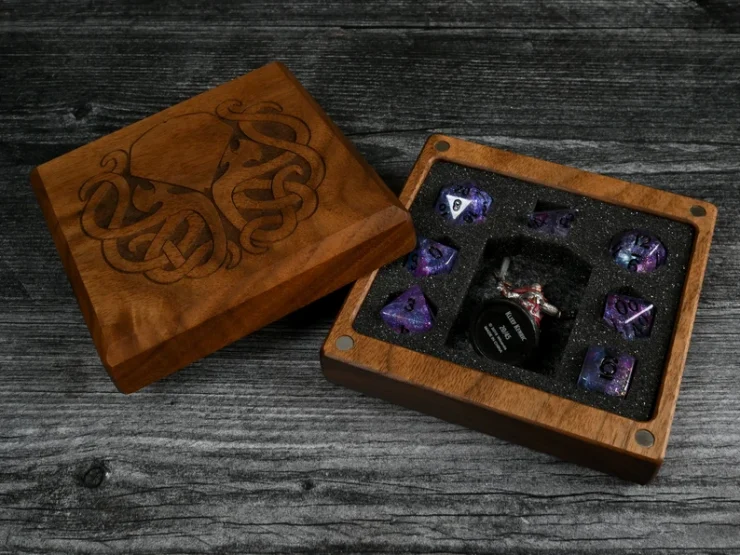 One of the smaller containers, this would probably be an option you keep at home. But I absolutely love the look, the fact that it has a spot for all of your dice, and a spot in the middle for your mini.
This is a great option for small, personalized D&D mini storage.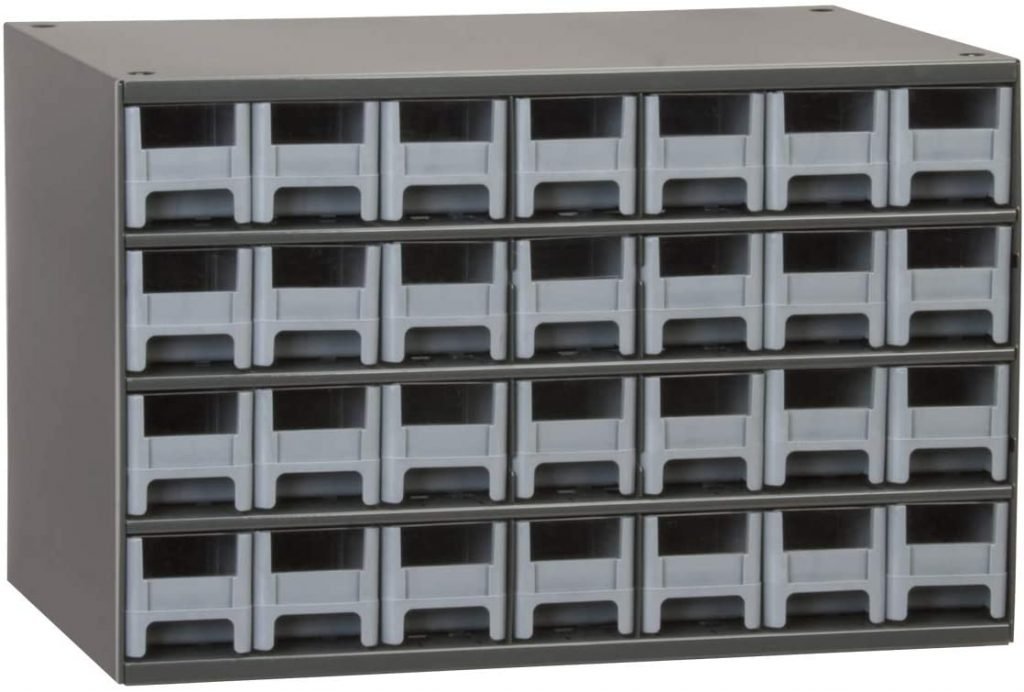 I decided to put the Akro-Mils storage container at the end of the list because of the simple fact that it's not transportable. It's not very feasible to take an entire storage container with you on a flight anywhere.
Having said that, it's a great option for at-home D&D mini storage, with 28 storage slots. You'll be able to be extremely organized with your minis if you choose this storage container.
---
Frequently Asked Questions
How do you store unpainted miniatures?
Honestly, storage of unpainted miniatures isn't as important as painted minis. This is primarily do to the fact that, without proper storage of painted minis, the paint can wear and chip over time. Having said that, a lot of people like to keep unpainted minis in their original storage until later use.
How do I display my miniatures?
There are some really cool D&D miniature display cases. Some are custom made, others are easily accessible on Amazon. Here's a great option.
What do you use miniatures for?
Miniatures are used in D&D to represent the characters (both PCs and NPCs) in a D&D world. Without minis, a D&D campaign is run via theatre of mind, which is entirely possible!
Do you need miniatures to play D&D?
As mentioned above, D&D miniatures aren't absolutely necessary to play D&D. The game is only limited by your imagination, but minis help you visualize that imagination much easier!
How do you keep your miniatures safe
Using one of the storage containers mentioned above is the best way to keep your miniatures safe and looking good!
Hey there, I'm Alexander King and I've been playing video games and RPGs for years!
While playing, I found that there's so much information that's difficult to find in this space; I created The Daily RPG to make that information a click away. So follow along for RPG guides, tips and walkthroughs, product recommendations, and more!