Recently updated on December 29th, 2022 at 12:16 pm
If you're among the many gamers looking for a gaming headset that doesn't pickup background noise, we've got you covered. I compiled our list of the best options for you to consider, at varying price points. Assuming you're not looking for a VR headset to watch movies or a solid VR headset for your iPhone, the list we've created will be perfect for you!
Click below to get started:
Table of Contents
---
What to think about when buying noise-cancelling gaming headsets
How the headset blocks out noise – If you're looking for noise-cancellation, you need to bee on the lookout for Active Noise Cancellation headphones. Headphones with Active Noise Cancellation help you hear better, but they also keep the outside world from disrupting your audio. These headsets have been known to reduce most sounds around them so that people can enjoy their own music or conversations without any distractions!
Microphone quality – It's great if your noise is blocked out, but we should also think about who's on the other end. Look for a headset that has a high quality mic as well so that you can communicate effectively with whoever you're gaming with.
Headset design – I don't necessarily mean, "Does it look cool?" here, we're more concerned with how the headset rests on the head. For environments with a lot of noise, it's important to have a closed-back headset that offers some nice passive noise isolation. Plus, you want it to feel comfortable if you're wearing it for hours.
(Optional) Additional features – It's nice for a gaming headset to offer additional features (RGB, sound control in-game, etc.).
The best gaming headsets that don't pick up background noise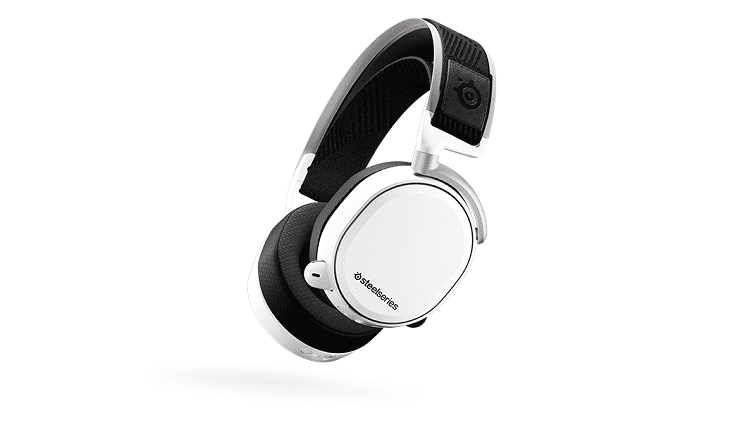 You can't go wrong with the SteelSeries Arctis Pro. This is a great option if you're trying to find a gaming headset that won't pick up background noise. It not only has high-quality sound but also includes a DAC or Digital to Analog converter for an amazing audio experience that will make your ears happy! The minimalist design makes this one of those rare accessories you'll want in both on and off game situations, plus it comes at prices everyone can afford
The SteelSeries Arctis Pro will never leave your ear due to its ergonomic design and soft plush padding. This headset has been designed for comfort, so you can game all day without developingear soreness or headaches!
With the Arctis Pro, you don't need any third party software to customize your gaming experience. The OLED screen on this mini-platform lets users do it all themselves!
The clarity of the mic is unparalleled and it delivers every detail with ease. The audio delivered over Bluetooth The mic is an excellent example of what makes it possible for this device to be so versatile. The sound Quality delivered over Bluetooth or through its built-in speakers are both clear and loud, without any distortion whatsoever!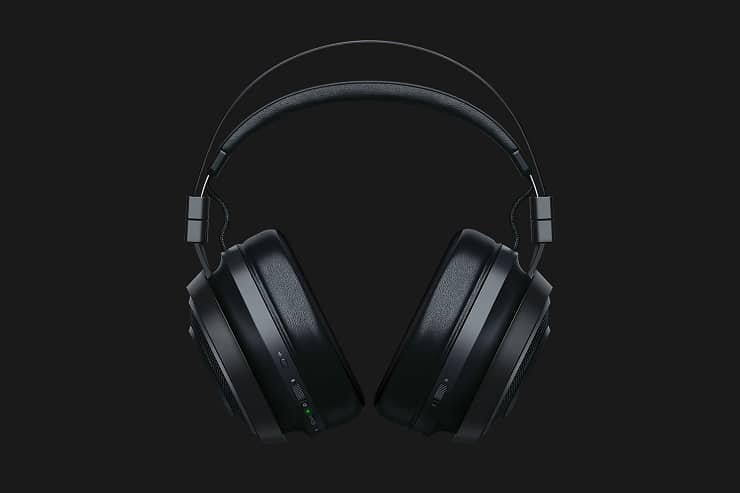 Imagine being able to feel the bullet whizz by your ear as you shoot down an enemy in PUBG. That's not just pure excitement, it would be like winning! The Nari Ultimate from Razer has a wireless design and offers HyperSense Haptic tech for this subtle but powerful vibration that will make any game worth playing more exciting than ever before — especially if they're using their own proprietary haptic technology called "Hyper-Sense." This is a headset that offers both comfortable design and solid noise isolation.
With noise cancellation and a decent mic, these headphones are a solid pick for gaming. One thing to consider, however, is that the headset does not offer ANC; having said that, it's still a great choice thanks in part by their excellent ear cups that seal out external distractions while letting you hear clearly from your team members so they can strategize about what needs done next!
While it is a a wireless headset, the connection is impressively consistent. There is virtually 0 latency.
But the headset has its limitations. For one, you only get 5 hours worth of battery life which can be limiting for many people who use their own headphones often or have a busy day at work where they won't have time to charge it every night before going into action again early next morning – especially if there are multiple users in this situation! Another downside? The micro-USB port isn't really designed with music listening as the focus.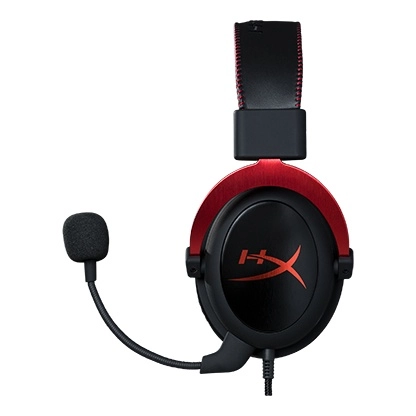 HyperX Cloud II is a popular gaming headset in the market today. It offers high sound quality and comfort at an affordable price with its robust aluminum frame that can survive drops from height of few inches without breaking or cracks appearing on it over time like other cheaper brands do when dropped onto surfaces such as concrete floors which causes breaks where pieces snap off due to trauma caused by impact during falling down especially if you've got glass lenses fitted inside your headband too!
The headset has a supremely snug and comfortable fit with memory foam covered ear cups that can be swapped out for plush velour alternatives. It's recommended for glass wearers who love playing games on their phones or computers all day long!
The closed cup design of the headset provides great passive noise isolation and blocks unwanted background noises well. The detachable mic is perfect for programs like TeamSpeak and Discord certified; it does a fantastic job at filtering out external sounds while delivering clear vocals when chatting on either platform!
The Cloud II provides a truly immersive experience for gamers. Whether you're gaming on your PC or console, the device will help make sure that all sounds are heard clearly with its 71 surround sound capabilities and easy-to use adjustments which allow users to turn them up as needed so they can enjoy every moment of gameplay!
The only shortfall in quality for this headset would be a lack on bass during explosion scenes, but it does have good sound overall with multiple speakers that provide clear highs/mids ranges while maintaining low distortion across all frequencies.
At the end of the day, the HyperX Cloud II is a great option for gamers who aren't too concerned about extremely low bass ranges or sound customization.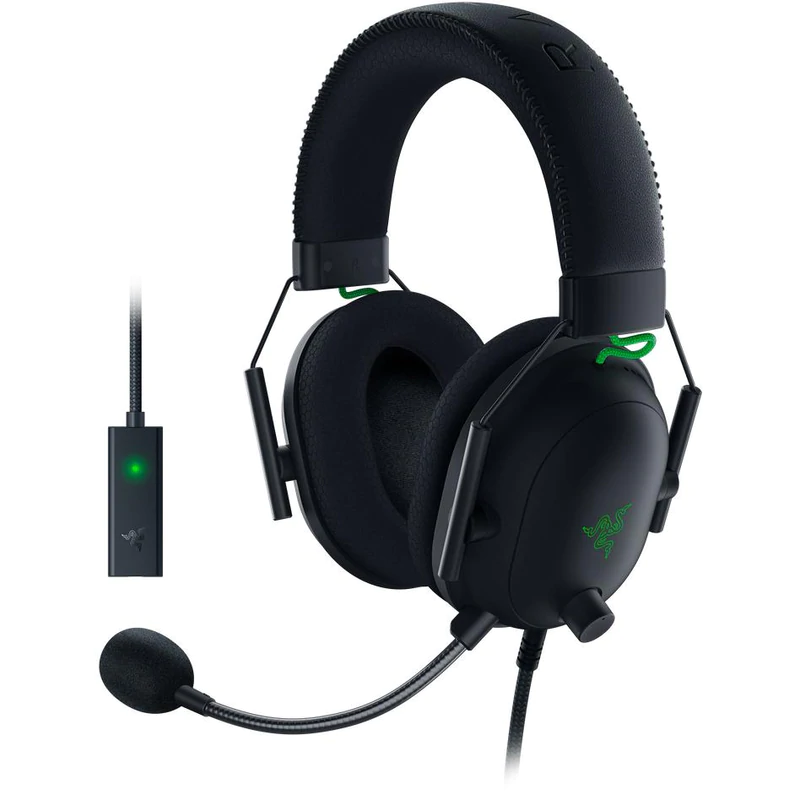 Razer's BlackShark V2 is a headset that has been designed with comfort and style in mind. Unlike many other gaming headsets, this wired one features plain looks instead of flashy LED lights or over-sized cups for your ears to sit inside; making it longer lasting than most others on the market today!
Razer also knows how important sound quality can be when you're playing games online which means they've included lightweight yet durable earphones so players don't have any issues wearing them throughout their entire game session without having another problem arise due discomfort after too long periods time spent enjoying gameplay.
You'll also get soft, memory foam-covered ear pads that feel comfortable but also prevent sweat.
The audio output of this headset is impressive. It has the right amount bass to enhance game sound and virtual surround sounds that help you decipher what's going on around you like approaching footsteps, leaves rustle or other smallest details in a scene which makes it feel more real than ever before!
The mic is a removable, and it doesn't pick up background noise. You can also turn on the Ambient Noise Reduction feature to talk with ease across teams!
The Razer BlackShark V2 offers plenty of customizable options through the in-house Synapse software. From tweaking EQ to playing with game profiles (THX tuned) or adjusting mic sensitivity, there's always something new for gamers who love exploring and personalizing their experience on any given day!
With the Razer BlackShark V2, you'll get a quality headset that offers a nice blend of performance and comfort features.
The Bose QuietComfort 35 II Wireless is a premium headset that offers Active Noise Cancellation and voice assistant support. This comfortable, affordable product makes it perfect for music lovers who want to listen on commutes or gamers looking forward towards playing their favorite games while traveling through busy traffic areas without having any interruptions from outside noises such as cars honking their horns at you!
The most impressive piece is that the Bose QuietComfort 35 II comes with 3 levels of ANC; the highest blocks most background noise when playing games at a crowded public location or turn it off completely while maintaining clarity during calls and chats. The dual microphones do an excellent job eliminating all kinds of noises, so your voice will be clear no matter where in noisy environments like airports/campsites etc., without fear that someone else might hear what's being said because they're picking up only yours!
The Bose quiet comfort 35 II is a high-end gaming headset that will not disappoint. The ear cups are well made and create an excellent seal around your ears, providing passive noise isolation as well as making it comfortable to wear for extended periods of time (with 20 hour battery life!). It also has some other nifty features like Amazon Alexa compatibility so you can control what happens in game with just voice commands!
The wired mode is recommended for best gaming experience as it can reduce latency. The lack of surround sound and microphone compatibility on Xbox One are worth noting, but this headset works with only PC Mac & mobile platforms so you won't have any trouble using them anywhere!
This headset is ideal for someone looking for premium Active Noise Cancellation and decent quality sound for music and gaming.
The Turtle Beach Elite Atlas Pro is a well-known and popular headset among their product line. The steel suspension band connects the ear cups together, while thick plastic hinges connect them to an adjustable headband which you can easily twist for different fit adjustments. The cool thing is that a variety of parts are replaceable as well!
The Elite Atlas Pro is a high-end headset with luxurious earpads and noise canceling capabilities. The mic, which features Truspeak™ technology to filter out background sounds well enough for clear communication during gaming or listening sessions without loudness issues common in other models on the market today!
The device is fully compatible with PC and Xbox One, but only partially on PS4 or Nintendo Switch. This is because the Windows Sonic virtual surround sound technology needs to be running in order for it work properly- only available through newer versions of windows 10 as well as xbox one's sonic software platform!
When it comes to enjoying music, the Elite Atlas Pro is a solid option. Listen to your favorite music in a noisy environment without being disturbed. They're also great for calls.
Taking it a step further, using the Turtle Beach Elite Atlas Pro headset for gaming is, as its name suggests, an elite experience. The Windows Sonic virtual surround sound technology will make games of all types feel much more realistic.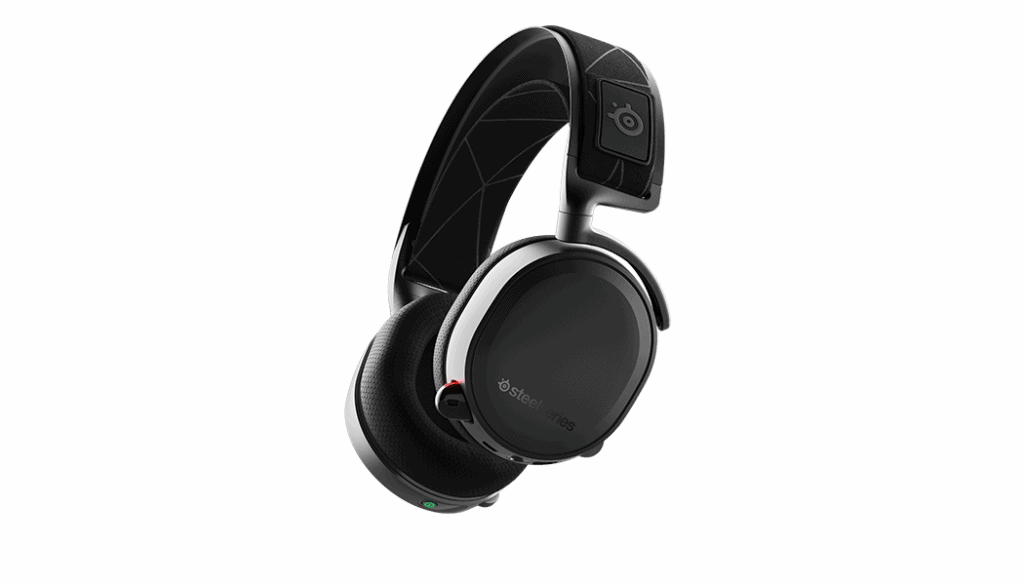 The SteelSeries Arctis 7 is a fantastic wireless gaming headset for both PlayStation 4 and PC gamers. It supports DTS Headphone:X 2.0, which makes it possible to experience true-to life 3D audio when playing games with this device's surround sound technology enabled by the company's proprietary Engine 3 software – all available without any wires!
The Arctis 7 provides brilliant voice clarity and background noise cancellation, but it could be better for its price. It's great when used to chat on games or apps like this one – however during phone calls you can expect some distortion at higher volumes because of how inexpensively made these headphones are (though they still work well). Another thing to consider is the range of sound. The Arctis 7 has, what some users would call, over-emphasized bass. This can be a bit overwhelming for some.
Using a 2.4 GHz USB donge, you can connect, wirelessly, to your PC, PS4 and even Nintendo Switch. You can also use a 3.5mm cord to connect to your phone, Nintendo Switch and Xbox One (via controller).
Choose the Arctis 7 for the price, wireless capability, and decent surround sound.
The JBL Quantum ONE is a stylish, well-thought out gaming headset that will make you feel like your game has never looked so good. It packs all of the features to ensure an immersive experience and even looks great doing it!
The JBL Quantum ONE gaming headset is a fantastic choice for those looking to play games and chat at the same time. This brand's ANC sound quality will not disappoint, as well as their Discord-certified detachable mic that allows you can use other apps without leaving your game!
The JBL QuantumSPHERE 360™ 7.1 Surround Sound is one of the most innovative features on this gaming headset, allowing users to pinpoint where sounds come from in any direction with ease! On top of that, it comes with head-tracking. So, regardless of your head's angle/direction, you'll still get the best sound from the right direction.
There is an impressive amount of modification capabilities as well, with mic settings, EQ adjustment and even RGB personalization.
Wrapping it up
Choosing any of the headphones above will be a great option for a gamer looking to play games without background noise. I'm confident that any of the headsets above will give you what you need!
Hey there, I'm Alexander King and I've been playing video games and RPGs for years!
While playing, I found that there's so much information that's difficult to find in this space; I created The Daily RPG to make that information a click away. So follow along for RPG guides, tips and walkthroughs, product recommendations, and more!