Recently updated on January 19th, 2023 at 12:58 pm
Virtual reality continues to become more advanced. It seems like there's a new VR-related breakthrough every year. An interesting trend is transforming your phone into a VR tool. So, if you have an iPhone and want to find the best VR headset for iPhone, we've got you covered! We created the ultimate list of VR headsets that can be used for your iPhone.
Table of Contents
---
Best Virtual Reality Headsets for iPhone
If, at the end of the day, you want an iPhone VR headset that doesn't look like every other headset, then the Merge VR may be one to consider. This iPhone headset definitely stands out. I love the color options! I've found many VR headsets look pretty similar (typically either white or black), but the Merge VR stands out aesthetically with 8 color options!
Unique features of the Merge VR iPhone headset:
There are 8 color options!
Highly durable with comfortable foam lining
Easy to clean
Included dual touch inputs are compatible with VR apps and the dual input functionality allows for multiple inputs happening at the same time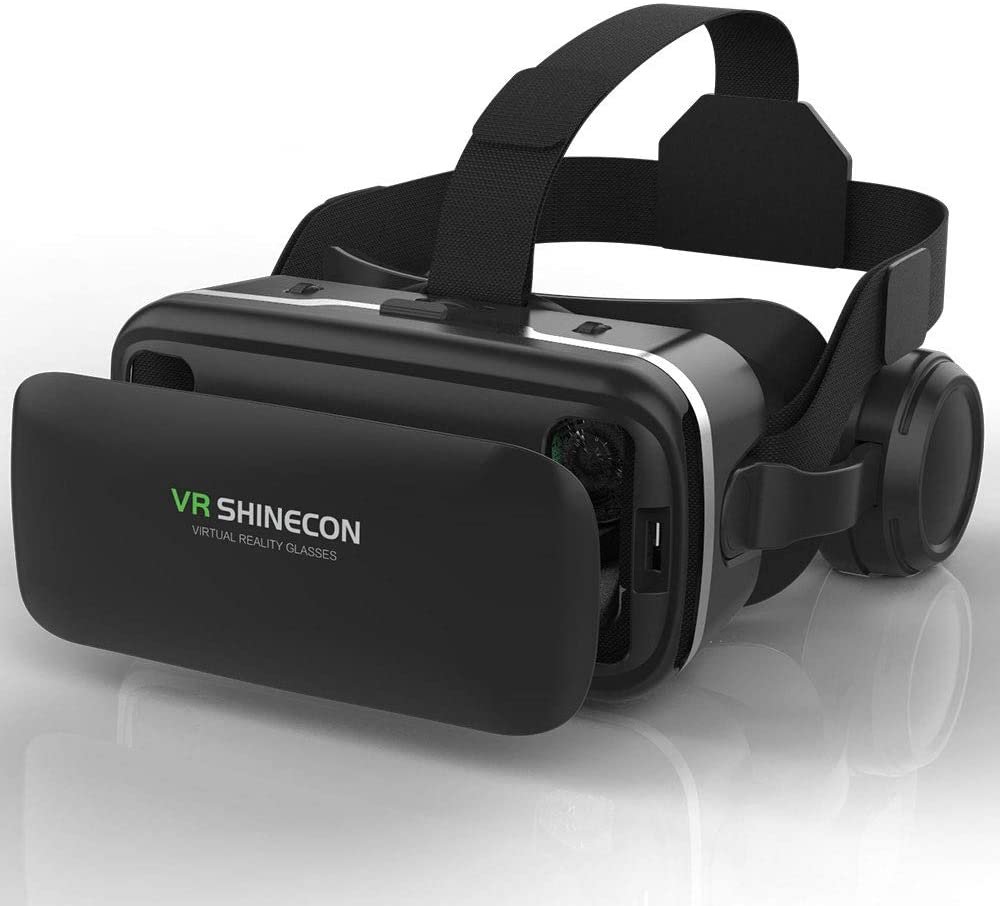 The VR SHINECON headset raises the bar in mobile headset technology. Like the others on this list, you'll get an immersive experience, adjustability and comfortability. Where the VR SHINECON distinguishes itself from the rest is in its heat dissipation design.
Unique features of the VR SHINECON:
Quick heat dissipation – The VR SHINECON comes with a removable front panel that absorbs heat. This allows you to add much-needed ventilation for those days when you're in the VR world for hours at a time.
PU leather mask and comfortable sponge
Larger nose groove
Adjustable T-strap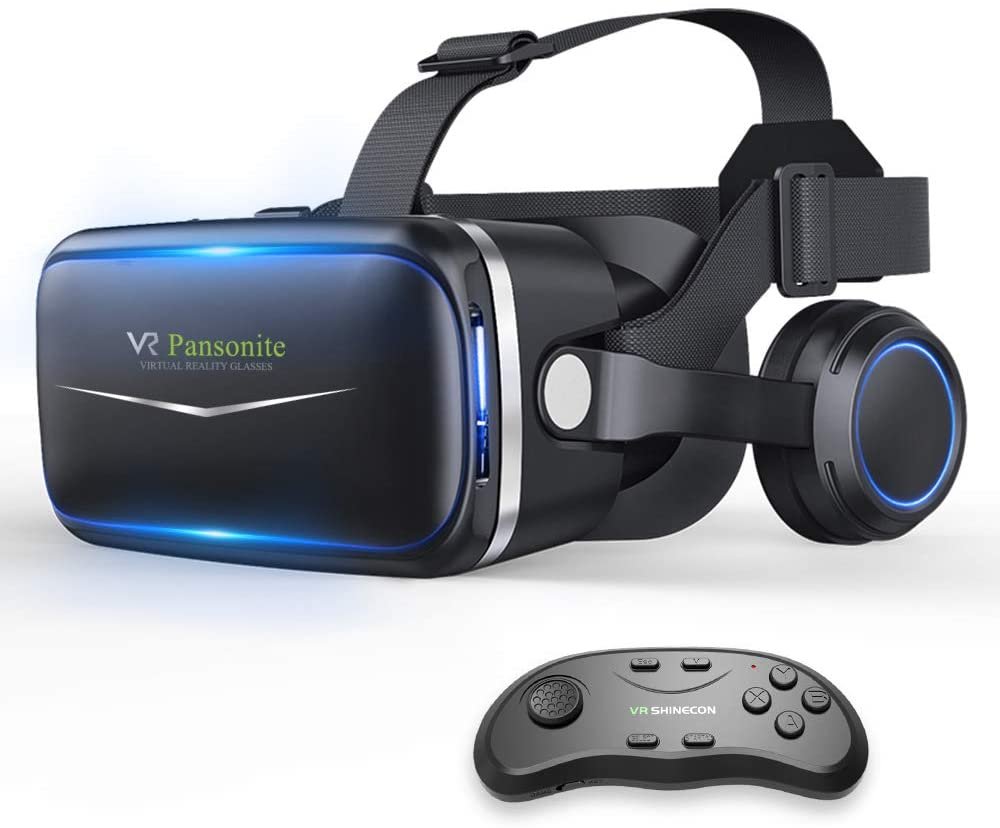 Pansonite's iPhone VR headset is another example of improved VR. With features ranging from eye perspective adjustments to an included remote control, this is an option that must be considered if you're trying to find a solid virtual reality headset for your iPhone.
Unique features of the Pansonite Headset:
Guaranteed customer satisfaction with an advertised "fastest 100% refund."
Bluetooth compatibility
Included remote controller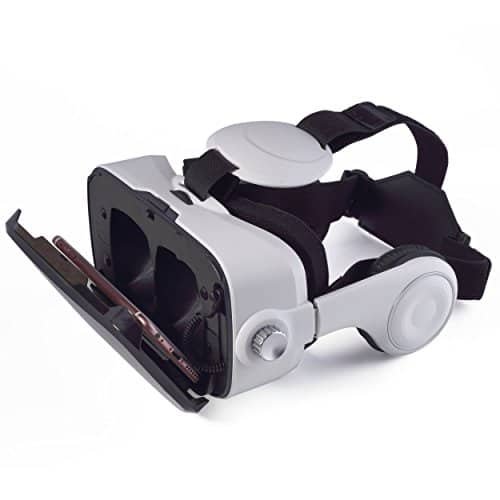 The MONIGE Universal 3D VR glasses are the perfect product if it's your first experience with mobile VR headsets. They are sturdy, comfortable, and your phone fits snug. There is a slot specifically meant to plug in your headphones and there's a unique window that allows your phone's camera to poke out, allowing you to record while in VR if you'd like.
Unique features of the MONIGE Headset:
Adjustable pupil and focal distance design, perfect for those with light sensitivity issues
30% reduced pressure to eyes with 3-point headset strap coverage
Plenty of ventilation holes to prevent heat and fog
Blue-light blocking film
The BNEXT VR Headset is a great option for all ages. It's one of the more affordable options when it comes to virtual reality headsets for iPhone, and it comes with most of the features you would need. Plus, with larger lenses and focal adjustability, you'll get a more immersive, clearer picture.
Unique features of the BNEXT VR Headset:
Focal distance adjustment
High definition and anti-blue light film
Advanced VR gaming technology allows for you to adjust the viewing angle so you get the perfect focal distance
35% larger lenses for a better VR experience (Supports a max screen size of 6.3″, so the iPhone 14 Pro Max's 6.7″ screen is too big)
Supports the following screen resolutions: HD, 3D, 720P, 1080P, 4K
The VeeR VR Headset (with added control) is a great option if you want to enjoy VR games, education and even videos. The nice feature we like is the "HiFI active noise canceling" that allows for a much more powerful VR sound, with much less surrounding noise.
HiFi Active Noise Canceling around-ear headphones allow for a more immersive audible experience
Bluetooth control
Comes with a controller
---
Frequently Asked Questions About iPhone VR Headsets
Is a mobile VR headset just as good as other VR headsets?
This is an interesting question. While an iPhone VR headset may not be the absolute best VR headset for watching movies or playing games, it is a very solid and affordable option if you don't want to invest hundreds of dollars to experience VR.
Is iPhone VR Compatible?
Yes, an iPhone is VR compatible! The biggest question to ask is if the VR headset you're interested in is compatible. The mobile VR headsets available were built to fit the dimensions of most phones out there.
How to Use VR on iPhone?
Using VR on your iPhone is quite simple! Here are the steps to follow when you get your iPhone VR headset:
Place the iPhone in the container, ensuring there's a snug fit
Look through the lenses and see where the focal point is. Most mobile VR headsets will have adjustability, so tweak the focal point until the picture is clear
Next, adjust the headset so there's a snug fit (but not too tight so you don't get a headache)
Open up any of your iPhone's VR-compatible apps and enjoy!
Are iPhone VR Headsets Worth It?
Absolutely! And here's why: Most VR headsets will end up costing you hundreds of dollars. In some cases, you could be paying thousands of dollars. Now, for those other VR headsets, you do get some more functionality and quality, but an iPhone VR headset is worth it because of the price you pay, as well as the features you get. I would call it VR-lite. It's a great introduction to the VR world.
How Do I Enable VR on My iPhone?
Enabling VR on your iPhone is a simple process! To grant access, go to Settings > Safari. Scroll down and there's a "Motion & Orientation Access" option. Make sure that is turned to "On" and you're good to go!
How Do I Fix the VR on My iPhone?
There is a known issue that was fixed on 4/29/2020 that was causing issues with VR working on your iPhone. Now, you simply need to approve access to motion and orientation data. Once granted, VR will work just fine!
Hey there, I'm Alexander King and I've been playing video games and RPGs for years!
While playing, I found that there's so much information that's difficult to find in this space; I created The Daily RPG to make that information a click away. So follow along for RPG guides, tips and walkthroughs, product recommendations, and more!